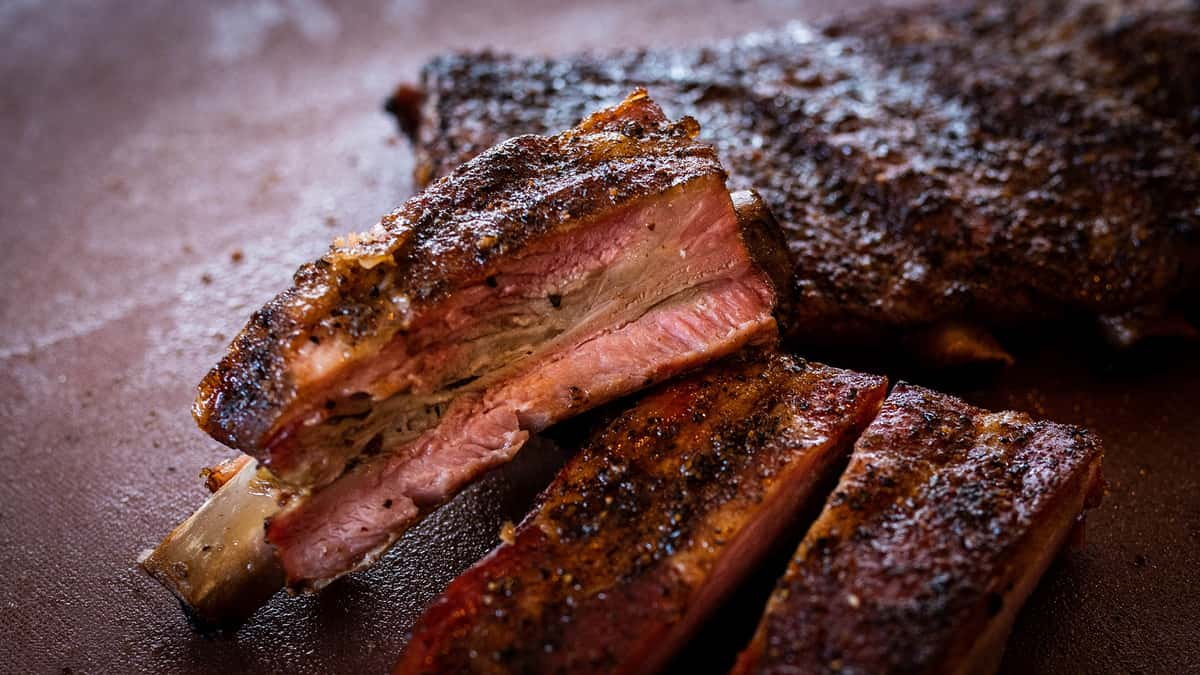 How to Smoke the Best Ribs
How to Smoke the Best Ribs
Last week, we gave you some tips and tricks for smoking a brisket, and this week, we're giving you even more tips in our How-To series! This week, we're laying down all the facts, tips and tricks for smoking the best ribs with Pit Master, Chad George.
What are ribs?
Pit Master Chad George says there are different kinds of ribs you can buy at your local store or butcher. These are baby back ribs or pork spare ribs. At Bigham's we use pork spare ribs, so that's what we're going to focus on today. Now, with pork spare ribs, there's a few things you need to know about pork spare ribs before you begin to smoke them, moreso, technical terms. Pork spare ribs come with bone and cartilage in them, depending on what your store or butcher sells. Regular pork spare ribs come with the breastbone and cartilage and St. Louis style ribs are already trimmed, uniformed and ready to go.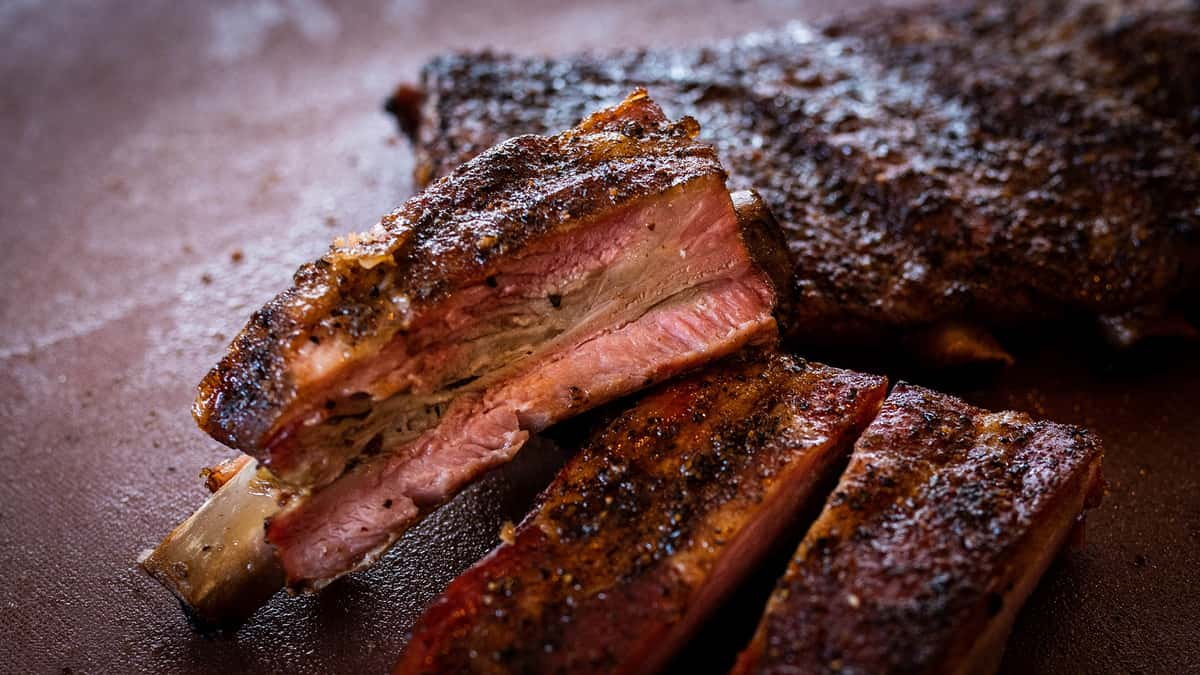 What to look for when purchasing your ribs
We know purchasing ribs, or any kind of meat, can be intimidating if you don't know what you're looking for. Chad says you want to look for thick ribs that are evenly sized throughout the rack. You want your ribs to be thick and consistent so you can get an even cook throughout the rack.
How to prepare your ribs
Once you've purchased your ribs and decided on a time to smoke them, you first want to make sure your ribs are properly trimmed. Even if your rack of ribs is already trimmed, you want to make sure the breastbone is taken out and you want to take off the silver skin, or the membrane. If you don't take off the silver skin, your seasonings won't sink into your meat like you want them to or it will leave your perfect bite tough and chewy.
To remove the silver skin or membrane, place your ribs bone side up on a cutting board. Then, with a sharp knife, cut a small corner of the silver skin, just large enough to pull with your fingers. After that, grab a paper towel and begin pulling on the membrane to remove it.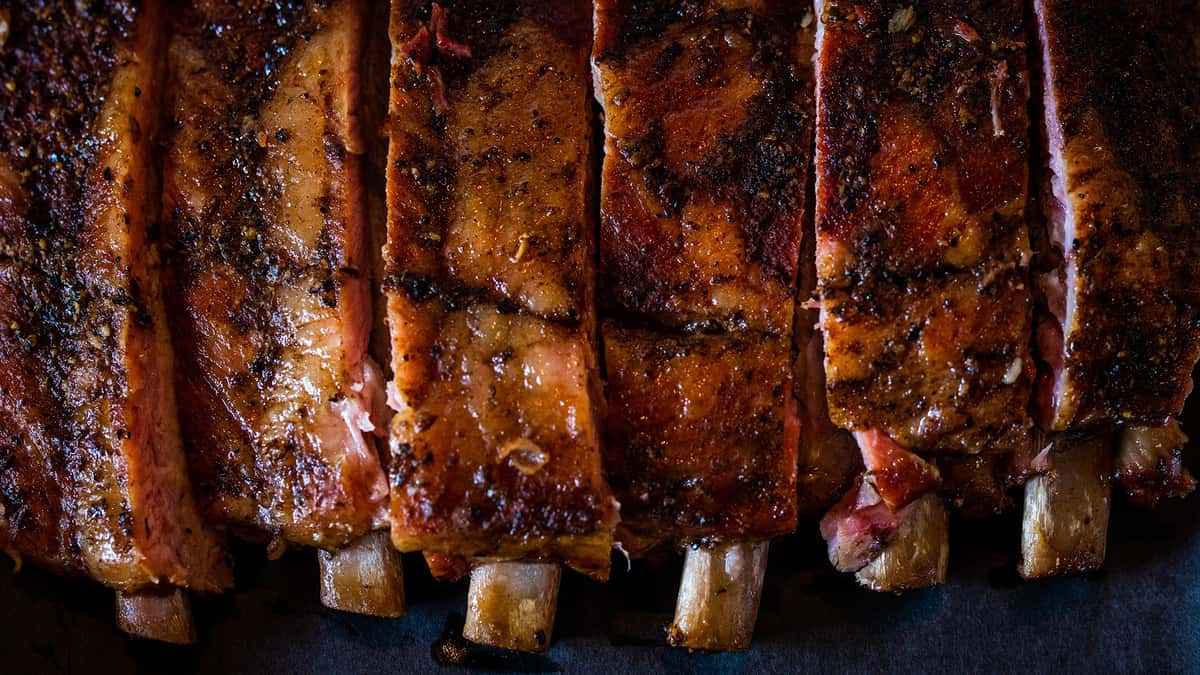 Seasoning your ribs
When it comes to seasoning your ribs, you really want seasonings that are going to compliment the flavor of the pork. Some people like to begin with a binder, so if you wish, you can add any kind of mustard, worchestire sauce or any kind of oil that will help your seasonings stick to the meat. After the binder is lathered on, go in with your seasonings. We like to use salt, pepper, paprika and garlic salt. You typically want to go for a sweet and salty flavor that really bring out the flavor of the pork. Be sure to season both sides of the meat so the flavor really sinks into the meat while smoking.
Smoke your ribs
Set your smoker to 225 degrees and place the ribs meat side up for two and a half to three hours, or until the meat has an internal temperature of 165 degrees. Then, you want to look and see if the meat has a good color. The good color you're looking for here is a reddish-brown or rust color. Once you see the good color on the meat, remove the ribs from the smoker and wrap in tin foil. This will help capture all the juice and make the ribs fall off the bone later. Place your ribs back onto the smoker and continue to let it smoke for another one and a half to two hours or until tender. After that, it's time to rest the ribs for at least 15 minutes and then you're good to serve!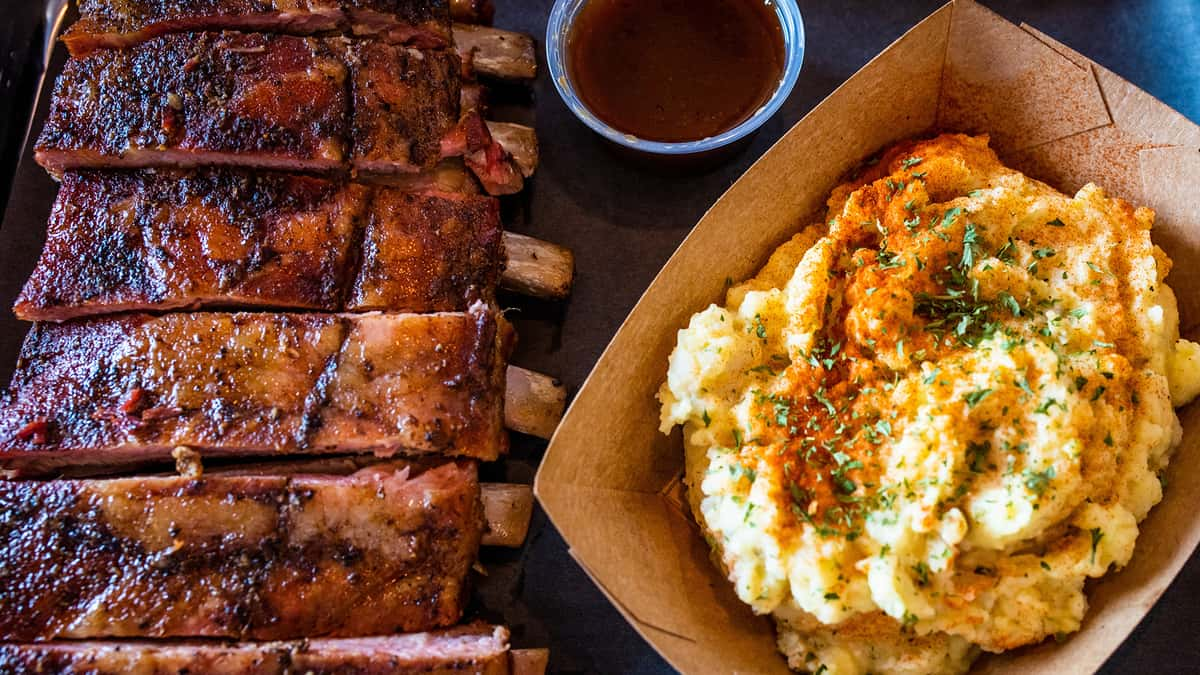 Tips and Tricks from the Pit Master
We asked Chad to share some of his tips and tricks when it comes to smoking ribs. Here are some tips for when you're smoking your meat:
- Uniformity
Uniformity is key when looking to make the best ribs. The consistent thickness throughout the rack of ribs will ultimately give you a better meat after smoking it.
- Don't let your ribs dry out
If you notice your ribs are looking a bit dry, spritz them with either apple cider vinegar or rub on some barbecue sauce.
- Fall off the bone good
You want your ribs to fall off the bone. If it doesn't happen the first time you try your hand at smoking ribs, don't stress! Each rack of ribs is different so you may have to alter some techniques every time you smoke them. Don't be afraid to add your own twist to your ribs!
Whether it's your first time smoking a rack of ribs, or your getting back to the basics, remember uniformity is key and to keep your rack of ribs moist throughout the smoking process to get those fall off the bone ribs!