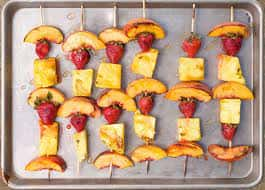 5 Best Grilled Desserts
5 Best Grilled Desserts
After eating some delicious barbecue, everybody wants a little something sweet. Don't turn off your grills just yet, because we're coming at ya with 5 grilled desserts that are delicious and super easy to make!
1. Grilled Fruit Skewers
What's a more refreshing dessert than grilled fruit skewers! This is a relatively healthy and light dessert that hits the spot. Designed after a fruit salad, here's what you'll need:
- Skewers (make sure you soak them in water before putting them on the grill)
- Peach slices
- Pineapple cubes
- Strawberries
- Honey
- Salt
- Olive oil
Making the fruit skewers:
1. Heat your grill to medium-high heat.
2. Make your skewers with the peaches, pineapples and strawberries.
3. Drizzle skewers with olive oil and sprinkle some salt on top.
4. Place your skewers on the grill, turning occasionally until the fruit is lightly charred and tender, about 10 to 12 minutes.
5. Drizzle the honey over the skewers and serve!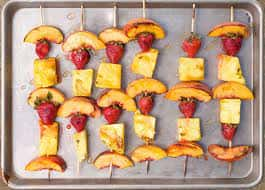 2. Traditional S'mores
A traditional s'more is a post-cookout staple. And it's something everyone loves! Here's what you'll need:
- Graham Crackers
- Marshmallows
- Chocolate Bars or Nutella
- Roasting skewers
Making the s'mores:
1. Set your flame up. Whether you're on the grill or using a fire pit, the flame is essential for getting the best toasted marshmallow.
2. Stick your marshmallows on the skewers and roast them over the flame until they're golden brown, or charred black, whichever you prefer.
3. After you've roasted your marshmallow, set out two graham crackers and square of chocolate.
4. Place the chocolate square on one of the graham crackers and then place your marshmallow on top of the chocolate.
5. Because the marshmallow will be hot, use the other graham cracker to remove the marshmallow from the skewer.
6. Dig in and be sure to grab a wet napkin to wipe the sticky marshmallow off your face after!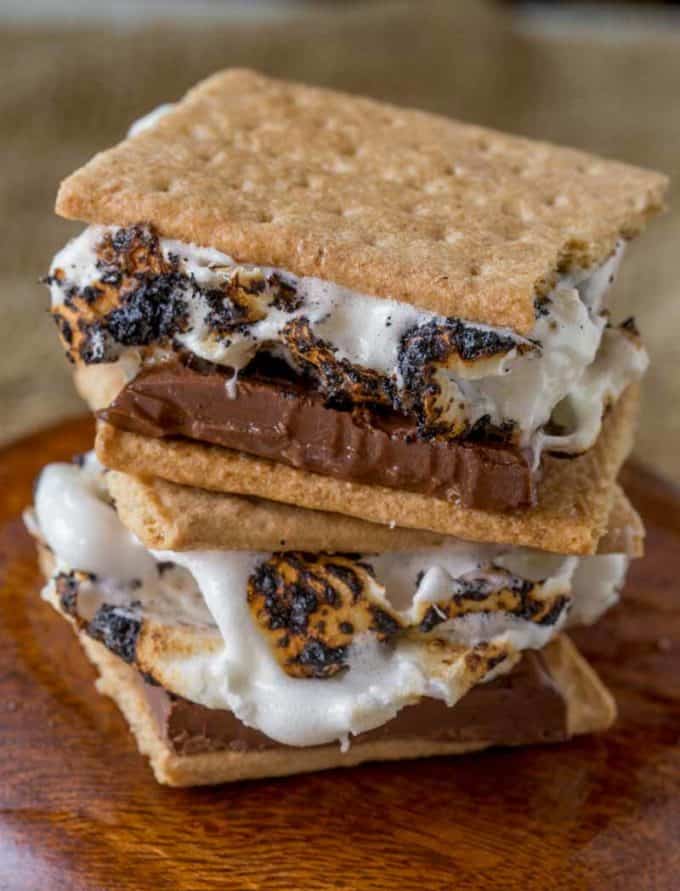 3. Cobbler
Another staple dessert after barbecue is cobbler. Use whatever fruit you'd like in this recipe, but we're going to use peaches, for example purposes. Here's what you'll need:
- 6 large peaches, pitted and halved (or cherries, mixed berries, whatever fruit you desire)
- 1/2 cup brown sugar
- 2 tbsp AP flour
- 1 tsp ground cinnamon
- 1/8 tsp ground nutmeg
- 1/4 tsp ground cloves
- 1/4 tsp kosher salt
- 2 tbsp unsalted butter, cut into cubes
Biscuit topping
- 1 cup AP flour
- 1/4 cup brown sugar
- 1 1/2 tsp baking powder
- 1/2 cup heavy cream
- 1/4 cup unsalted butter, melted
- pinch of salt
Making your cobbler:
1. Heat your grill to 350 degrees.
2. Grill the peaches for five minutes, flipping halfway.
3. Remove peaches and once cooled, slice into thin slices.
4. Add peaches to a large mixing bowl with the sugar, flour, cinnamon, cloves, nutmeg and salt. Combine until everything is coated evening.
5. Add everything to a cast iron skillet and sprinkle the butter cubes over, and cover with foil.
6. Place the skillet on the grill, cover and cook until the mixture is hot and bubbling.
7. While the peaches are cooking, make the biscuit topping. Add flour, sugar and baking powder to a mixing bowl. Stir until everything is combined.
8. Add add cream and melted butter and mix until the dough starts to form.
9. Remove the foil from the cast iron and dollop the dough over the peaches. Cover the grill and cook until the biscuits are browned.
10. Remove from the grill and let stand for 10 minutes before serving.
Still want cobbler but don't want to make it yourself? Bigham's Smokehouse has three cobblers to pick from! Whether you want an individual serving or a pan of cobbler to feed your crowd, Bigham's Smokehouse has you covered!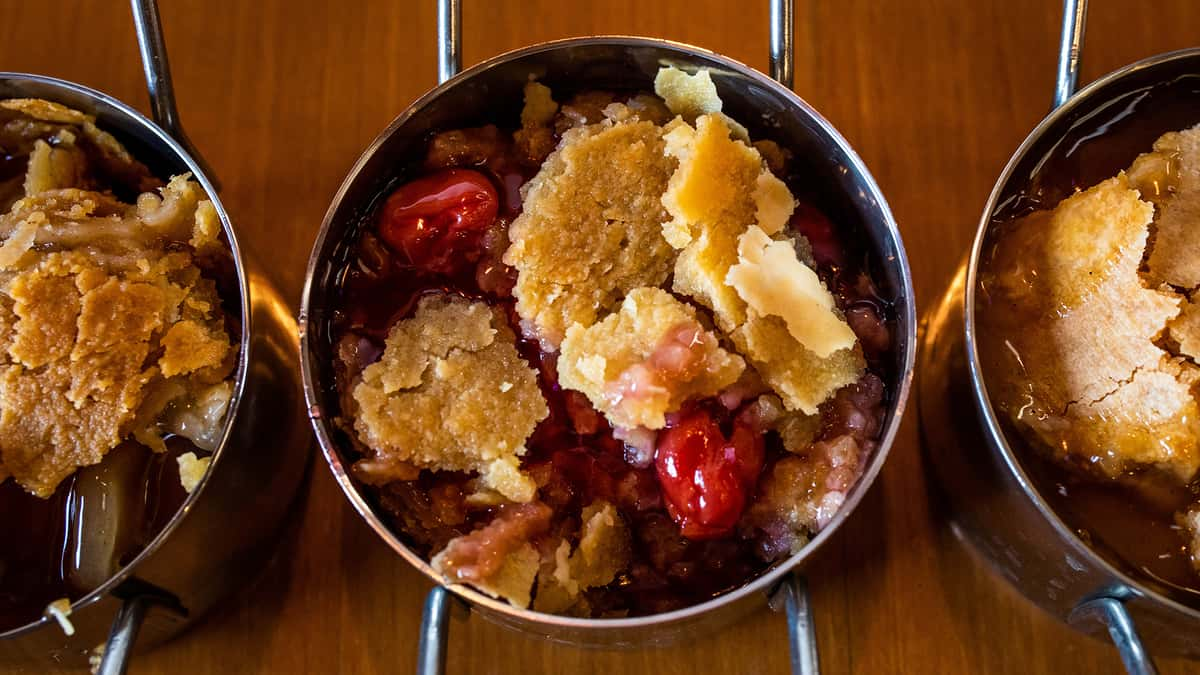 4. Foil Pack Apple Crisps
This dessert is super easy to make over the grill, campfire or even in the oven! Here's what you'll need:
- 4 cups peeled and thinly sliced apples
- 1/4 cup sugar
- 2 tsp ground cinnamon
- 1/2 cup melted
- 1/2 brown sugar
- 1/2 cup flour
- 1/2 cup quick oats
- 1/2 tsp baking powder
- Foil
Making your foil packs
1. Heat your grill to 350 degrees.
2. Tear off four 8" x 12" sheets of foil.
3. Divide the apples between the four piece of foil.
4. In a mixing bowl, combine sugar and cinnamon. Evenly sprinkle on top of the apples.
5. In another mixing bowl, mix together butter, brown sugar, flour, oatmeal and baking powder. Sprinkle on top of the apple mixture.
6. Seal up the foil packets and place on the grate for 20 minutes.
7. After 20 minutes, remove from heat and serve!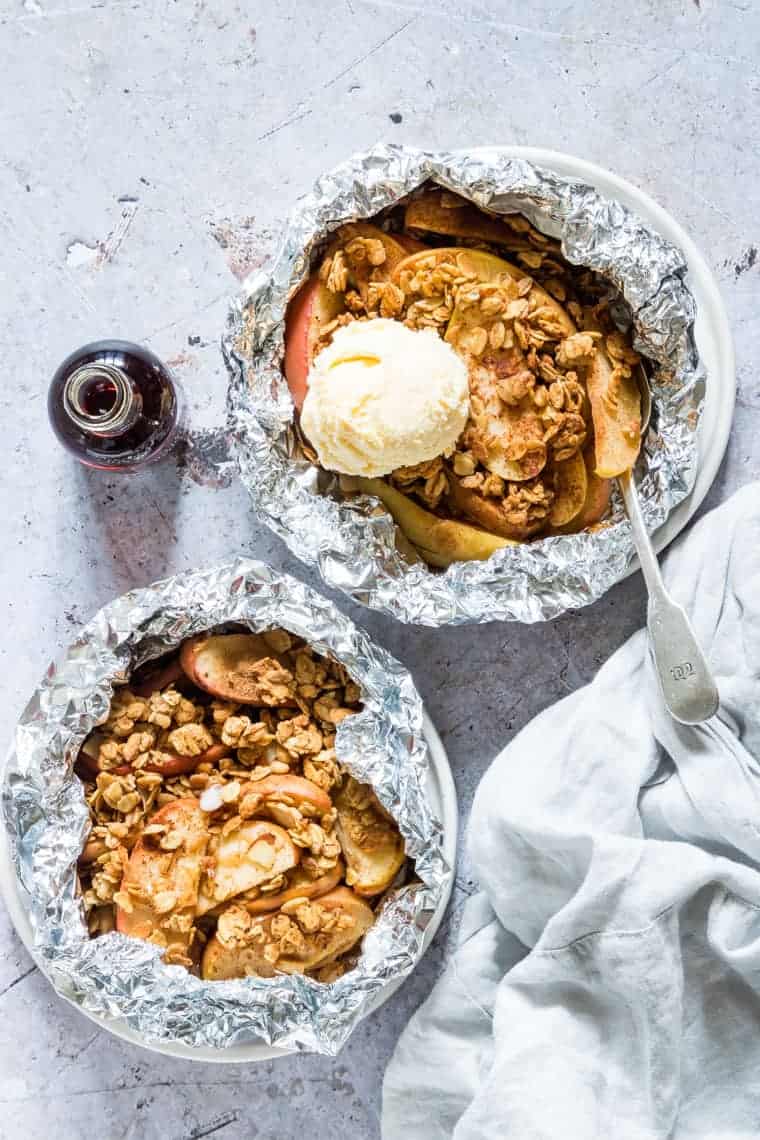 5. Grilled S'mores Pizza
This dessert is easy to make and adds a new twist on a traditional s'more. Here's what you'll need:
- 1 pizza crust
- 1/3 cup Nutella
- 3 graham crackers, broken into large pieces
- 1 tbsp honey
- 8 large marshmallows, sliced
Making your s'mores pizza:
1. Preheat your grill to 450 degrees and place a pizza stone on it.
2. Lightly flour a work surface and roll out the dough into a round.
3. Place the dough on the preheated pizza stone and close the lid to cook for two minutes. Flip after two minutes. Cook for additional two minutes.
4. Use a spatula to spread Nutella over the crust. Add graham crackers on top of the Nutella, the drizzle with honey. Top with marshmallows and press into the Nutella.
5. Close the grill and let cook for three minutes. When the marshmallows are golden brown, use tongs to remove the pizza from the grill.
6. Serve immediately!