4 of the Best Barbecue Books You Should Read
4 of the Best Barbecue Books You Should Read
Sometimes you want to stray from the path and create a unique dish for dinner. But, you don't necessarily know exactly what you want to cook. Here are 4 of the best barbecue books you should read to give you some inspiration on your unique dinner dishes.
1. Pitmaster: Recipes, Techniques, and Barbecue Wisdom
If you're just starting out at the grill or a seasoned grill veteran, this book gives you all the ins and outs of barbecue. The recipes begin with basics, then transition to more sophisticated techniques, like smoking a whole pig. Whether you're just looking for some recipes to impress your guests at your backyard cookout or entering a barbecue cook-off, definitely check this book out. Pitmaster: Recipes, Techniques, and Barbecue Wisdom features tips for your smoker or grill, a backyard cooking chapter showcasing the basics, a history on the different regional types of barbecue, sides and desserts to accompany your barbecue masterpiece, and spotlight features from guest pitmasters.
"This definitive collection of barbecue expertise will leave you in no doubt why expert chefs and backyard cooks alike eat, live, and breathe barbecue sharing essays by the masters such as Steven Raichlen, Elizabeth Karmel and more." ―Eat Your Books
You can purchase this book on Amazon for $16.99.
2. Rodney Scott's World of BBQ: Every Day Is a Good Day: A Cookbook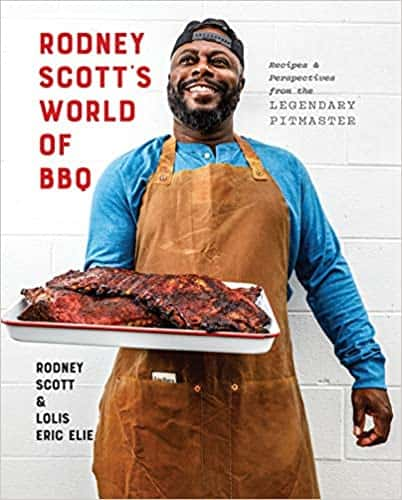 Rodney Scott's World of BBQ brings an approachable way to barbecue. Whether you eat, sleep, barbecue or just want to grill out for friends and family, we definitely recommend this book. This book also shares Rodney's story, a true-American dream success story. Not only does this book feature Rodney's story, but also includes how you can add your own twists to his famous recipes. "I like spreading the joy and sharing the love, and whole hog barbecue is my means of doing it." ―Rodney Scott
"Thirty years in the making, Rodney Scott's World of BBQ takes its readers into the heart, mind, and soul of a barbecue artisan who is at the top of his craft. Rodney Scott "goes whole hog" by accessibly and expertly guiding you through his barbecuing method. His recipes for side dishes, desserts, and beverages definitely remind you that, yes, every day will be a good day when you use this cookbook."—Adrian Miller, James Beard Award winner
You can purchase this book on Amazon for $17.77.
3. Franklin Barbecue: A Meat-Smoking Manifesto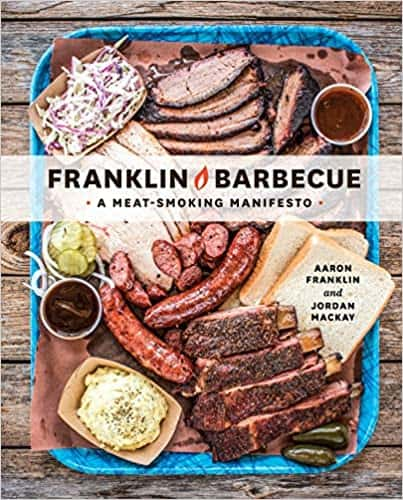 If you remember, a couple of weeks ago, we covered Franklin Barbecue in our Texas BBQ Road Trip blog. And we're here to tell you, nothing beats Franklin Barbecue, which is why we picked this cookbook to feature. This New York Times Bestseller cookbook is a complete guide to meat and brisket smoking. This book unveils the secrets of Franklin barbecue with chapters featuring curing the right wood, creating the perfect fire, finding the best meat, and ultimately how to recreate some of the best barbecue in the world.
"Pure genius! Aaron Franklin has distilled years' worth of barbecue knowledge into this book. In it, he exposes the sacred insights of a top pitmaster—information that can otherwise only be learned from long nights spent staring at a fire, shovel in hand, constantly prodding and pinching your meat to figure out that 'just perfect' point of doneness. This book is a game changer: read it, and your barbecue will improve overnight!"
—Adam Perry Lang, chef, restaurateur, and author of Serious Barbecue
You can purchase this book on Amazon for $18.00.
4. Meathead: The Science of Great Barbecue and Grilling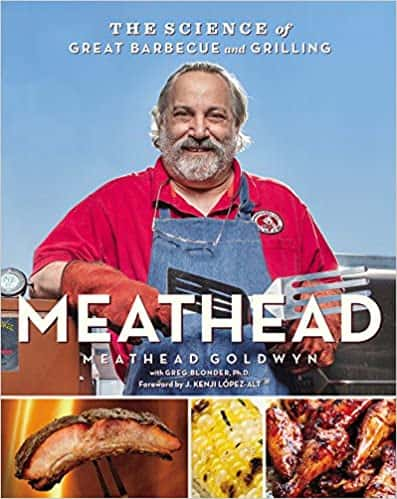 If you're one for science, this is your book! Meathead: The Science of Great Barbecue and Grilling dives deeper into the science behind particular aspects of barbecuing, rather than just providing recipes. If you're really into finding out how all things barbecue work, this is it. From dry brining to marinades to the interaction between food, fire, heat and smoke, this book provides insights into the science of barbecue. This book is based off real research and shatters myths we all thought we should follow.
"Barbecue nerds will delight in Meathead's detail-oriented research. Busting myths and blinding us with science, Meathead is a must for the collection of any serious barbecue cook."
— Mike Mills and Amy Mills, 17th Street Barbecue and authors of Peace, Love, & Barbecue
You can purchase this book on Amazon for $27.78.