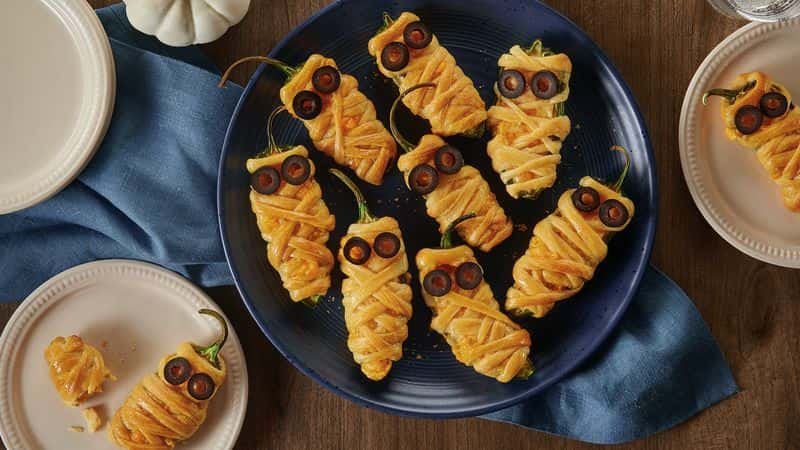 3 Halloween BBQ Party Foods We Love
3 Halloween BBQ Party Foods We Love
It's spooky season and we're here for all the frights, sights and delights! Here are some fun and freaky snack ideas you can try at your Halloween party this year!
1. Spooky Chicken Pull Apart Sliders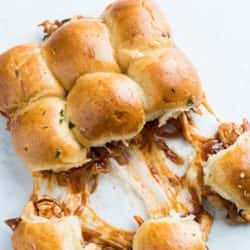 What you'll need:
- 2 tbsp olive oil
- 1 diced red onion
- 3 cloves of minced garlic
- 3 cups of shredded chicken
- 2 tsp of your favorite BBQ seasoning
- 1 cup of your favorite BBQ sauce
- 12 Hawaiian rolls
- 2 cups of shredded cheddar cheese
- 12 Olives
- Toothpicks
- Sliced cheddar cheese
Garlic Butter Spread
- 1/4 cup unsalted butter, melted
- 2 cloves of minced garlic
- 2 tsp minced parsley
- 2 tsp basil
- pinch of salt
Instructions:
First, preheat your oven to 350 degrees, then grab a 9x13 pan and give it a good grease. Then, in a small bowl, mix all the ingredients for the Garlic Butter Spread, place aside until later.
Grab your Hawaiian rolls and slice them in half horizontally to make a top and bottom. Once the oven is preheated, place the bottom half of your rolls into the greased pan and lightly toast so the bottom doesn't get soggy from the juices of the chicken and barbecue sauce.
Heat a skillet over medium-high heat, add olive oil and sauté your onions and minced garlic until soft. This should be about 2-3 minutes. In the same pan, add your shredded chicken, barbecue sauce and barbecue seasonings and heat thoroughly.
Now that you already have the bottom half of your rolls in your pan, take half of your shredded cheese and place it on the bottom half of the rolls. Then add your barbecue chicken mixture on top of the cheese and layer the other half of your cheese on top of the chicken mixture. Place the top half of your rolls on top and brush on your garlic butter spread!
Baked these delicious sliders for 10-15 minutes in the oven. While your sliders are in the oven, grab your cheddar slices and cut them into small triangle to make fangs. Grab some toothpicks and stick through the olives to make eyes.
Once your sliders have finished cooking, place two cheese fangs on each roll and two olive eyes, as well. There you have it! A delicious and spooky party snack everyone will love!
2. Pumpkin Smoked Deviled Eggs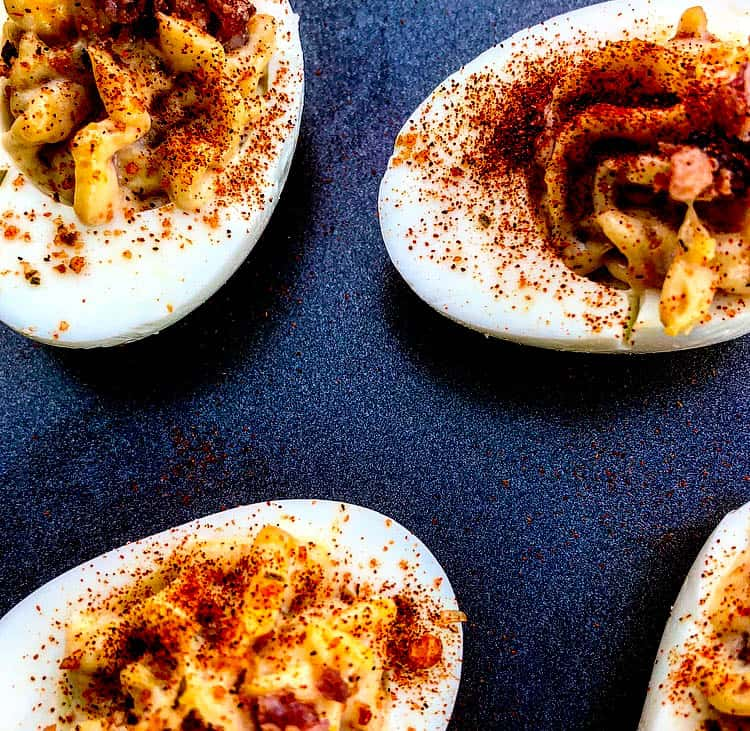 What you'll need:
- 12 eggs
- 3 tbsp mayo
- 1 tbsp of your favorite BBQ sauce
- 1 tsp dijon mustard
- 1/2 tsp sugar
- 1/2 tsp salt
- 2 pieces of cooked bacon
- Paprika
- Your favorite BBQ seasoning
- Chives
- Red food coloring
Instructions:
First, fill a pot with water, then place your eggs in the water bring to a boil. Once the water comes to a boil, turn off the heat and cover your pot for 15 minutes. After the 15 minutes, place your eggs in an ice bath for 30 minutes. While your eggs are in the ice bath, heat your grill or smoker to 100 degrees.
Come back to your eggs and remove the shells. After you remove the shells, cut your eggs in half to remove the yolk.
Once your grill or smoker is to the desired temperature, place a chunk of hickory wood in there and let it begin to smoke. Then place your yolks in to the grill or smoker and smoke for 30 minutes. After the 30 minutes, remove your yolks and place in a bowl to mix in the mayo, mustard, sugar, salt, a couple drops of the red food coloring (to make it orange, like a pumpkin), barbecue sauce and seasoning. Once that is fully combined, place a dollop of the mixture in each egg and garnish with paprika and bacon bits.
Now to finally make your smoked deviled eggs look like a pumpkin, ad chive to the top to make the stem!
3. Mummy Jalapeno Poppers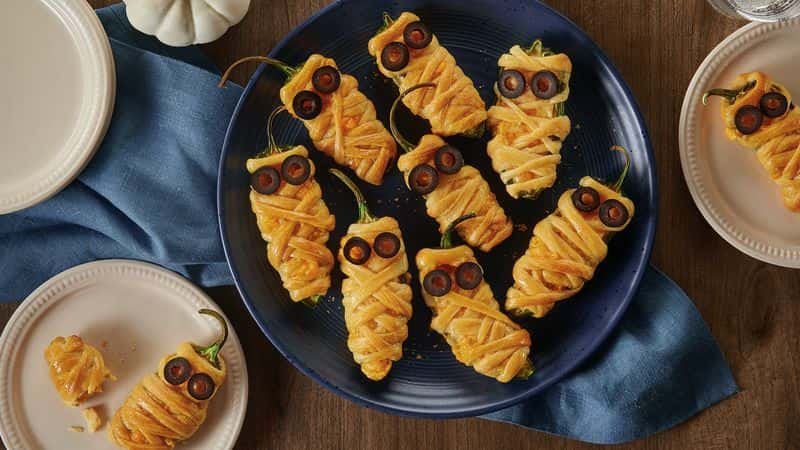 What you'll need:
- 6 Jalapenos
- 4 ounces of softened cream cheese
- 2 tbsp chopped chives
- 1/4 tsp of your favorite BBQ seasoning
- 1/2 cup of your favorite BBQ sauce
- 3 tbsp shredded cheddar cheese
- 6 slices of bacon
- 1 package of crescent rolls
- 12 olives, sliced in half
- 12 soaked toothpicks
Instructions:
Preheat your grill to a medium high heat.
First, you'll slice the jalapenos in half, lengthwise. Then scrape out the seeds and white membrane. If you want them spicy, keep the seeds and membrane because that's where the kick comes from! In a separate bowl, combine cream cheese, chives, barbecue seasoning and shredded cheese. Then, fill your jalapeno peppers with the cream cheese mixture.
Slice your bacon strips in half and wrap around the pepper. Secure the bacon to the pepper with the soaked toothpick. Then, wrap your crescent rolls around the bacon. This will give it the mummy look.
Head on over to your grill and place some foil down to keep the peppers from sticking to the grate. Arrange your jalapenos on the grill and cook until the bacon is crispy and the jalapenos are tender, about 15 minutes. Then glaze with your barbecue sauce.
Remove jalapenos from the grill and place the sliced olives on the top of the jalapeno. Here's your mummified jalapeno popper! Enjoy!